CUSTOM DESIGNS All backdrop are custom painted at no additional charge .You can request a custom design by contacting David with your ideas or photos. We can also customize any of our backdrops by changing or adding colors , change vignettes or textures. e-mail maheu@cox.net call 401-529-6759
HAND PAINTED MUSLIN BACKDROPS Our muslin backdrops are hand painted on a heavy weight cotton muslin.They can be folded for ease of transportation.You can hang them on a track system ,a roller, or clamp to a crossbar with 2 stands. To reduce wrinkle lines clamp to the stands on the side and steam out the fold lines with a hand steamer.
HAND PAINTED CANVAS BACKDROPS Our canvas backdrops are hand painted on a heavyweight canvas and can be taped to a roller core or we can mount to a wood board to hang on backdrop stands.There are 3/8 inch holes in the board to mount to the top of the stands with a round dowel at the base to roll it up .Two Velcro straps keep it rolled for storage and transportation.Canvas backdrops rolls flat with no wrinkles, however they are heavier than muslin and a 10ft wide will roll to a 10ft length for transportation.
PRINTED ARTISAN CLOTH BACKDROPS Our printed backdrops are light weight wrinkle free backdrop ,a printed version of our hand painted designs. The pros , they are wrinkle free and portable,the cons they do not sit as flat on the floor on full length sizes and the subtle color designs do not have as much depth as the hand painted backdrops.They have a rod pocket to hang on a backdrop stand .Two clamps on the side will help it stay flat.
RETURN POLICY All backgrounds are made to order. A 15% restocking fee will be applied to standard orders. Custom designs are non refundable, however we will re paint the backdrop to meet your needs. Shipping costs are non refundable and customers are responsible for return shipping .
SHIPPING INFO Hand painted backgrounds usually ship in 1-2 weeks. Printed Artisan Cloth backgrounds ships in 2 weeks. If you need your backdrop by a certain date please let us know and we will contact you and do our best to get it to you. All backdrops are shipped UPS ground except for canvases over 8 ft.which are shipped truck freight. Estimated shipping cost muslin and printed backdrops $25 to $30. Canvas backdrops up to 8ft $45 to $65 9ft canvas $195 to $225 over 9ft it goes truck freight. We will contact you with shipping cost.
CARE OF BACKDROPS
MUSLIN backdrops can be spot cleaned and steamed out to eliminate fold lines. The more you use your muslin it will soften and become easier to stem out the wrinkles.You can store folded or hang on a track system for less wrinkles. Please don't place anything on top of muslin backdrop when storing.
CANVAS backdrops can be washed with mild detergent with a sponge .To store canvas that is mounted to a board, stand vertical against a wall. If a canvas gets creased you can steam or flat iron the crease on the back side only. Please don't put anything on top of backdrop when storing.
PRINTED ARTISAN CLOTH Is machine washable and dryer safe,They can be steamed out .Do not iron.
HANGING CANVAS & MUSLIN, LAYERING BACKDROPS AND SET DESIGN
Our canvas backdrops comes with a board at the top with 3/8 inch holes to mount on the top of your stands . 5/8 top stands comes with a 1/4 20 screw top to mount a 3/8 inch adaptor to fit our top board.You can also clamp canvas to a crossbar , attach canvas to a pulley system or duct tape to a roller core.
CREATE LAYERS WITH CANVAS BACKDROPS
Create a corner with two muslin backdrops to create a 3 dimension set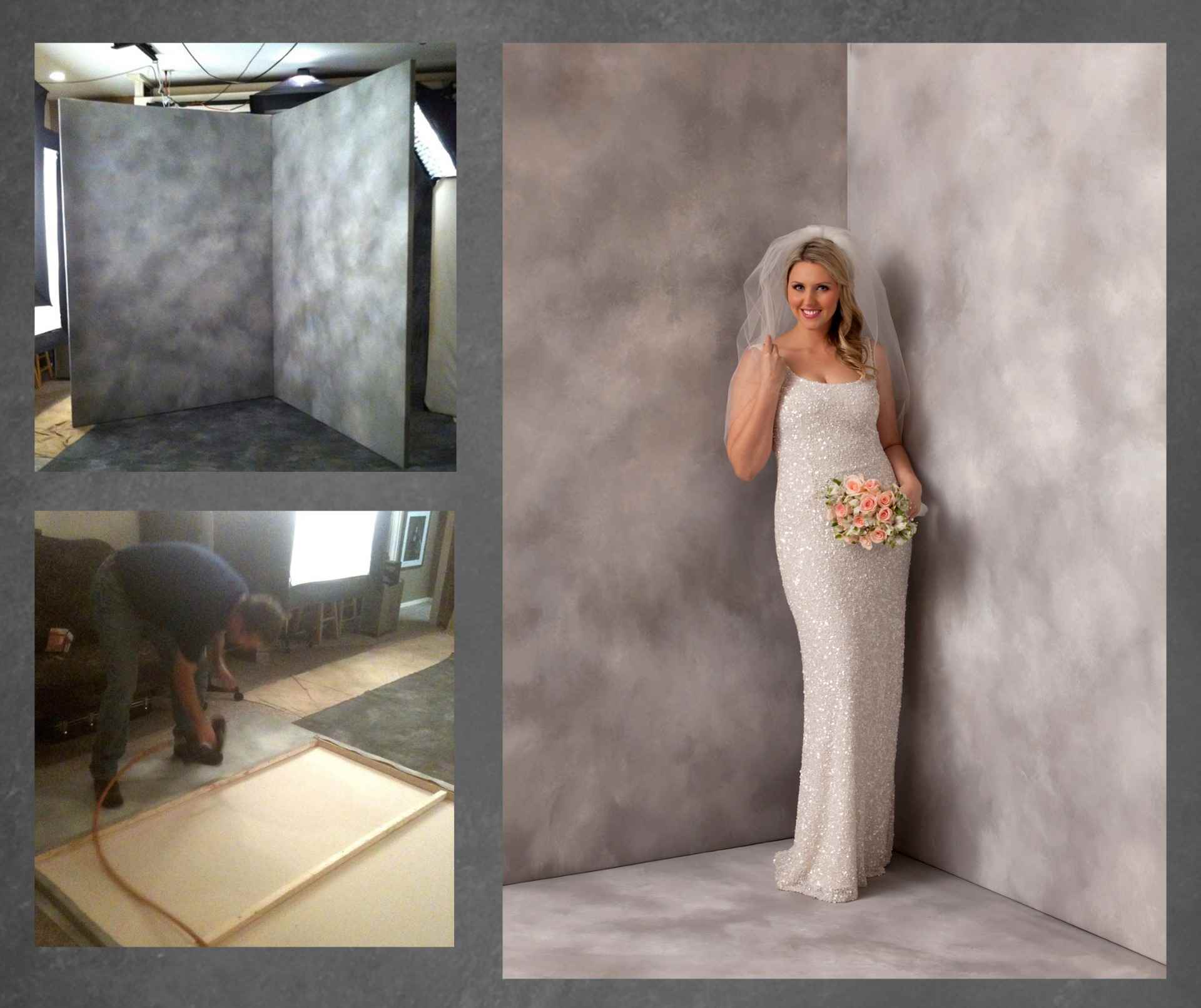 Stretced canvas flats adds dimension to your set
Mr Mcgregor's Garden (fine art design) our top selling spring & Easter backdrop. Add props to create this set.
Creative set design and our scenic backdrops is a great way to promote children's portraits.
Our impressionistic style scenic backdrops are great for newborn portraits.
Beach scenic backdrops with a painted style give your children's portraits an artistic style.